Hearing loop systems - Are you all in the loop?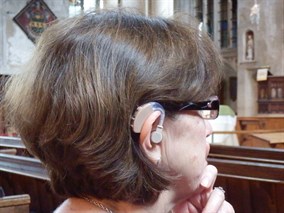 If you have hearing impaired people in your congregation, you need to make proper provision for them to ensure they are as fully engaged with the worship as those blessed with perfect hearing.
In more reverberant buildings this can be solved with an Audio Frequency Induction Loop System (AFILS), since it reduces the unwanted background noise and echoes by providing a direct feed from one or more microphones and playback sources (like CDs etc.).
Things to consider about a hearing loop system:
Do you need to repair, update or install a new system?
What designated area(s) do you need to cover?
Where might a hearing loop cable be fitted – at floor level or at high level?
What system is best for your needs – an AFILS, Infra-Red, RF or Wi-Fi type system?
How do you find a Designer/Installer who can also maintain your system to current standards?
There are many technical issues for a Designer/Installer to consider – cable size and location for required field strength in the designated listening area, background magnetic noise from other cabling and metal loss correction are just a few.

As an AFILS accredited provider we also recommend that you test your system every month with a portable loop listener and check hearing aid users have good batteries if they complain they can't hear adequately. Are they using the 'T' switch position on their hearing aids?

If you need help with any of the issues raised above, then please contact us and ask to speak to our accredited designer/installer who is an ISCVE Hearing Loop Approved Assessor.